Custom Manzanita Bird Perches, Bird Toys and Manzanita Wood for Sale
Bring a Bit of Nature to your Birds!
Durable, Natural Bird Perches and Toys.
We offer 3 Sizes to Fit all Birds
Hardware for Easy Installation Included.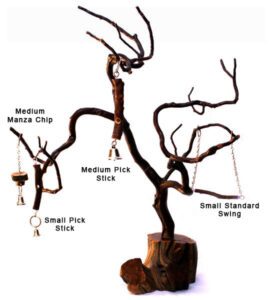 Are you looking for a unique Manzanita bird perch that can't be found at your local big box pet store? Let MANZA BIRD PRODUCTS help fill your niche with our quality, handmade bird toys, Manzanita Bird perches. Each piece is unique using nature's design.
MANZA BIRD PRODUCTS was established in 1986 and has been making quality bird toys and Manzanita bird perches that have stood the test of time due to its long lasting sturdiness.
MANZA BIRD PRODUCTS is located in the Sierra Nevada Foothills of Northern California. The Manzanita used in our products is harvested with permission from private landowners. We are a family owned business, striving to use sustainable practices in our manufacturing as well as in our daily life. MANZA BIRD PRODUCTS is dedicated to help bring nature back to your birds.
Our Most Popular Bird Perches and Toys