Our custom Manzanita hardwood items use our sustainably harvested Manzanita and hand-craftsmanship to bring out the natural beauty of this hardwood in unique one-of-a-kind Manzanita perches to fit our customer's particular needs.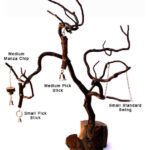 Custom Manzanita
We can custom-make Manzanita bird perches to fit any size cage or aviary. We can also provide Manzanita play gym kits for customers to build to suit unique cage sizes and shapes.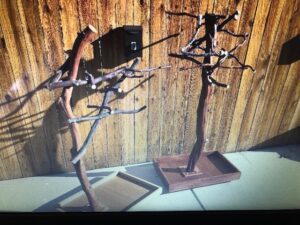 Kits
In a you-build Manzanita wood bird perch kit we provide the 4-5′ trunk and 4 / 24-28″ double branches for you to assemble with your own imagination, your hardware and any base you choose.
Creativity
Our customers frequently tell us about their projects and the different uses they have found for our Manzanita hardwood. Manzanita wood is beautiful, durable, and the 8th hardest wood in the world!
Woodworking Projects
Whether you are looking for a large-bird perch kit for an aviary enclosure or Manzanita wood blanks for crafting into canes, pens or any other carved hardwood project, we can provide beautiful Manzanita wood for a wide array of purposes.
Canes and Woodworking
Hobbyists use Manzanita branches to create equisite hand-made Manzanita hardwood canes and carved Manzanita items.
Blanks
Manzanita wood blanks can be transformed into any number of things – Manzanita toys, Manzanita wood keepsakes, hardwood ornaments, pens and anything the woodworker can imagine!
Display Trees
Manzanita display trees make stunning wedding centerpieces at big events and in homes as beautiful Manzanita decor items. Display cards, jewelry, ornaments or hang keepsakes.
Large Branches
Large bare Manzanita branches have been put to use in chicken coops to provide natural roosting perches. Manzanita wood branches have also provided habitat to two-toed sloths!
Custom Large Perches
Custom large-size Manzanita wood bird perches can be made to fit giant aviaries and bird enclosures of all shapes and sizes for any species or variety of bird – large or small.
Drop us a line
Contact us to order a perch kit sized for your cage, aviary and pet bird species.
Reach out about your woodworking project and let Manza Bird Products provide the hardwood Manzanita blanks you need!